Understanding the Vital Role of UX Designer in Creating Technological Products
Yasmim Savana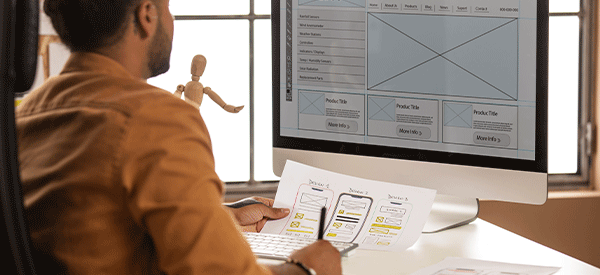 In the product development process, it is essential to recognize the significant value that a UX Designer adds to the process. Here, we will address some relevant roles of this professional:
Effective Communication among Stakeholders
A designer's primary mission is to promote effective communication among all involved parties and, most importantly, advocate for the needs of the end users of the product. It's essential to understand user requirements and provide the necessary solutions to ensure a satisfactory experience from start to finish. This involves understanding both the user and the business, testing different approaches, dealing with technical challenges, and maintaining ongoing dialogue with all stakeholders. This collaborative process helps keep the entire team aligned with the product vision, ensuring that the user experience is prioritized in all aspects of development.
Organization and Standardization for Efficiency
Regardless of the project's size, it's crucial to consider it as a whole and maintain a comprehensive view of what is being designed to avoid deviations along the way. Creating an effective user interface (UI) starts with the standardization and organization of components. This approach facilitates the work of both designers and developers, while also enhancing the user experience since familiar elements are consistently reused. Designers play a crucial role in creating and maintaining design libraries, ensuring that the product can evolve without the need for rework.
Clear Responsibilities and Priorities
The work of a UX Designer goes beyond design and research. They also share project responsibility with all team members. Task prioritization is also part of the responsibility, and it's crucial to establish priorities in collaboration with other teams to ensure efficient development. Ongoing communication with all stakeholders is fundamental for successful work.
The Value of a UX Designer
Having a dedicated UX Designer to develop layouts and ensure "for whom," "what," and "how" is a tremendous benefit to the team. This professional's contribution is essential for creating products that meet user needs, resulting in higher customer satisfaction and success in the market.
Premiersoft: Your Partner in Optimizing User Experience
If you're looking for a partner capable of optimizing the user experience in your projects, rely on our team's expertise. We are committed to continuing to evolve and providing innovative solutions to the market. Our user-centered approach is fundamental to the development of successful technological products.
We are here to help boost your results and relevance in the market. Contact us today and discover how we can contribute to your success!
Read the full article at: https://medium.com/@roberto.hulsenbeck/cuidados-para-que-a-cultura-da-qualidade-n%C3%A3o-se-torne-apenas-um-folclore-62bfcf3a517b