6 Reasons to Implement a Squad with Premiersoft and Boost Business Agility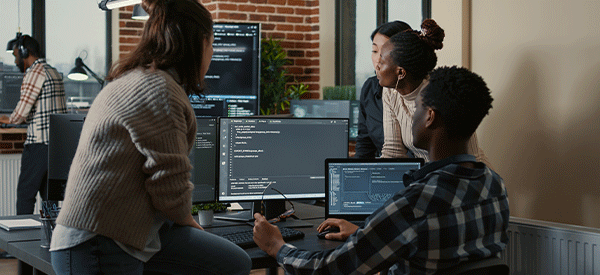 In a highly competitive market, companies are constantly searching for ways to enhance productivity and quality. Squad formation has emerged as an effective solution, enabling the rapid and efficient delivery of value.
According to Gartner, software engineering leaders who adopt agile methods can achieve productivity gains of up to 20% and reduce friction by up to 50%. Don't miss the opportunity to boost your results!
1.Collaborative Environment:
Intensive collaboration between business experts and technical specialists is at the core of a Premiersoft squad. This ensures that the solutions delivered precisely meet your company's unique needs.
2.Increased Productivity:
Our agile and efficient methodology significantly reduces development time and costs, enabling the delivery of high-quality solutions more quickly and effectively.
3.Focus on Delivering Value:
With short work cycles, we ensure tangible results in a short period while maintaining a focus on continuous value delivery to customers.
4.Excellence in Quality:
We prioritize software quality, reducing errors and bugs to provide an exceptional user experience and increase customer satisfaction.
5.Greater Flexibility:
Our autonomous squads easily adapt to market changes and customer needs, offering flexibility in utilizing technology to meet your business demands.
6.Enhanced Engagement and Innovation:
Agile projects boost team motivation, facilitate quick and efficient decision-making, stimulate innovation, and create a positive organizational environment.
Premiersoft offers a comprehensive solution for your company, with squads composed of experts from various fields working together to achieve your goals and drive project success.
Contact us to discover how our squads can elevate your organization's performance!